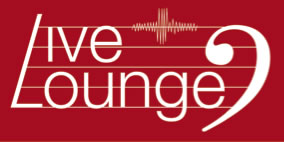 Welcome to our showcase for local talent
Are you in a band or are you a solo performer? If so we want to hear from you! The Brooklands Radio Live Lounge is next to our studio and is wired for sound so we can put you live on air and record you at the same time. The results are posted on this page and as a Podcast. To find out more or to take part, email us at
livelounge@brooklandsradio.co.uk.
Past Performances
Aimée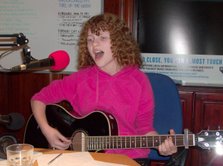 Aimée (pronounced EM AY) is 13 years old. She has been playing the guitar since she was 8 years old and has been writing and performing her own compositions for about 5 years. She has composed numerous songs to date and only performs her own compositions.
In her spare time, Aimée is an active member of the Petersfield Youth Theatre and has performed in three Autumn Season productions (Whistle Down the Wind, The Jungle Book and The Wind in the Willows), is studying towards her grade 5 in Piano, is a member of two choirs (including the Eggars School Chamber Choir) and enjoys playing Tennis with the Liphook Tennis Club. Find out more about Aimee at her
MySpace page
.
Aimée joined David Durant in the BFM studio back in October. Click below to listen:
Sunday's Child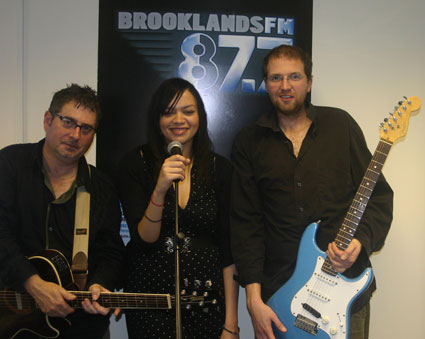 On 5th October, local band Sunday's Child played an excellent live set in the BFM studio during Ray Rainbow's show. The band are vocals Maria Megally, songwriter/guitarist and stomp box David Barrett and Guitarist/percussion Gef Palmer. They quote their influences as John Martyn, Van Morrison, Tracey Chapman, Joan Armatrading, Stevie Wonder and Curtis Mayfield. Find out more about the band on their
MySpace homepage
.
Click below to listen to the broadcast:
Tearaway - Rocking for Darfur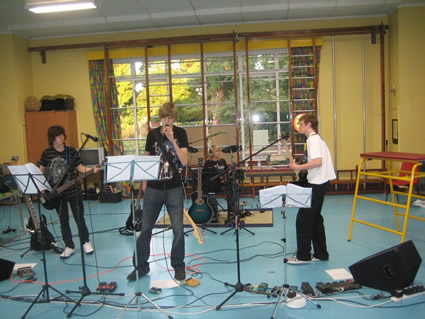 On 4th October, Tearaway raised money for the Darfur Charity "Kids For Kids" in a concert at St Mary's Hall, Byfleet
For more details and to donate visit
www.justgiving.com/rockingfordarfur
Listen to Lance England's interview with Tearaway from 30th September:
Other Bands in the Live Lounge: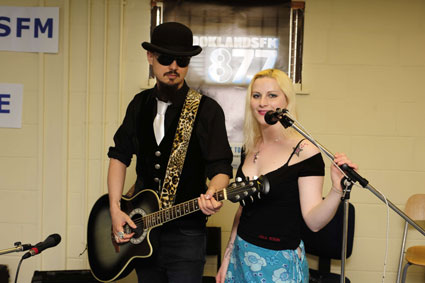 Inimitable Dragonfly in the BFM Live Lounge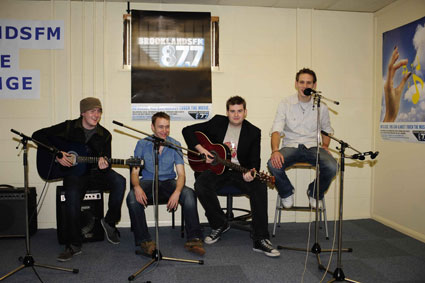 Terminal Five in the BFM Live Lounge
Other bands in the Live Lounge have included:
Simon Wiedemann – a 19 year old guitar wizard
Collen Muriel – classical flautist and
Nurture the Flame – a reflective acoustic duo
Liam Amber – singer/songwriter
Blue Beyond – a cover band
Magic Bus – rock duo
James Catton – musician and songwriter
Dave Gilbert – jazz guitarist

Download and listen via FeedBurner