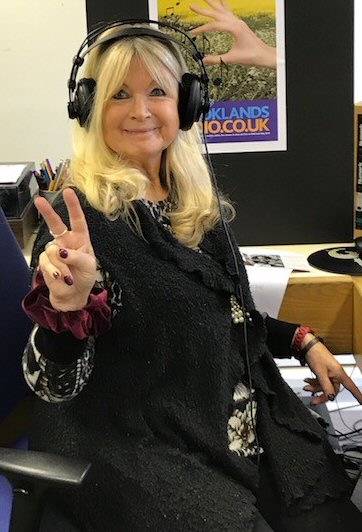 Brea's Booth

Sundays 8.0 pm
Repeated Wednesdays 10.0 pm
Brea Gosling with the evening music mix featuring classic tracks, fresh new tunes and spotlighting the artist of the week.

With Singers/ Songwriters/Producers Engineers/People behind the Scenes Live Lounge & Buskers Booth! Interviews Bringing their Stories & Music to Keep you in the Groove!!!!!!
Listen to Brea's Booth Shows


Brea has been involved in the arts and music world all her life. Growing up in Buckinghamshire and having a very eclectic and creative background. Her Grandfather and Father were both musicians and her father had his own jazz band and was a multi-instrumentalist.

She trained as a hairdresser, theatrical makeup artist In the West End and also did modelling in adverts and support acting in TV and film. Brea started at a very young age with her late boyfriend and his partner running the Ricky Tick clubs situated in Windsor, Guildford and all over the South of England which nurtured many famous bands. It was The Club to be at - a real teenagers paradise for sure!

Musicians including The Rolling Stones, Fleetwood Mac, Animals, The Who and John Lee Hooker to name a few and even Little Stevie Wonder, Jerry Lee Lewis and Bill Haley. Brea opened the First Boutique in The Ricky Tick Nightclub, designing clothes selling vintage clothes and jewellery which was frequented by the various bands and girlfriends and club members and she made a copy of a Victorian jacket for Eric Clapton.

It was The Club where the famous film Blow Up was filmed with David Hemmings and Jane Birkin at the Clewer Mead Mansion which was the Old Etonian Country Club on the Banks of the River Thames at Windsor.

Brea eventually married a keyboards player Peter who was a protegee of Bill Wyman of The Rolling Stones. He was in The Preachers with Peter Frampton then Moons Train later The Renaissance Group and later composer and MD for children's tv programmes. They moved from Windsor to Windlesham Surrey, producing two children, a son and daughter who have grown up to be very successful in the Music & Arts world.

Brea loves new ventures and ran her own company Cottage Industry Shows in Arts & Design at Ascot Racecourse and many stately houses all over the South of England as well as raising funds for local and national charities in the UK.

She has been very involved for many years in different projects and new ventures in art and music and finds this very fulfilling, exciting and energising. Life is to be enjoyed so work hard, play hard that is her philosophy.

Brea is very keen to nurture the past and present great singer songwriters and also promoting fresh new young talent as well and bringing all the greatest sounds to your ears. Brea says music is food to us all. If music be the food of love play on and on and on and looks forward to seeing you Sundays or Wednesdays on Brooklands Radio to keep you in touch with all the best in music.