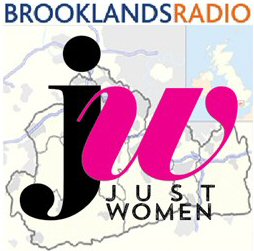 Just Women
Tuesdays at 1pm
Repeated on Thursdays 8pm
www.facebook.com/JustWomen.BR
Previous shows on Feedburner

Just Women is introduced by two of the following presenters – Jackie Mitchell, Amanda Weller, Penny Carter, Ivana O'Brien, Anne Twist, Mandy Dineley.

"Our team are always keen to hear from women who would like to appear on our show, so, if you have an interesting career, want to promote a charity or event, have an inspirational story to tell, or know of someone who has, please get in touch with us via email at JustWomen@brooklandsradio.co.uk and we'll get back to you with further information."

Our Next Show on Tuesday 21st January
Presented by Anne Twist.
| | | |
| --- | --- | --- |
| | | Kathryn Chapman is a photographer who will be talking about Face to Face, a creative and therapeutic photography session for women of 25+ who are struggling with anxiety and depression. www.kathrynchapman.co.uk/facetoface |
| | | Rae Adam FWP by Rae, a brand selling ethically produced cotton T-shirts and sweatshirts manufactured under fair working and fair wage practices, screen printed or embroidered with fun and meaningful words from the world of wine. www.fwpbyrae.com |
| | | Marisa Noelle is the writer of middle grade & young adult novels in the genres of science-fiction, fantasy & mental health., she will be talking about mental health in teen literature. http://www.marisanoelle.com/ |